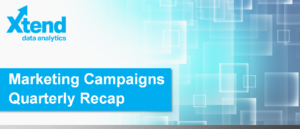 Each quarter, Xtend Communications and Data Analytics review the statistics and trends of the previous quarter's RevGen Campaigns and Multi-Channel (Custom) Campaigns.  In this quarter's review, we compare results with those from last year, and discuss any notable changes.  We also highlight notable campaigns and methods from Q1 of 2020.
View the Q1 2020 Marketing Campaigns Quarterly Recap
Interested in booking a campaign with Xtend?  Click here to get started!
Have questions or comments?  Reach out to us here.