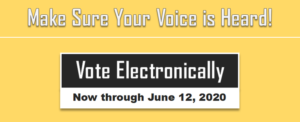 ATTENTION CU*ANSWERS STOCKHOLDERS
Make sure your voice is heard!
Vote Electronically for board elections May 4 – June 12, 2020!
Don't forget, CU*Answers will be hosting our annual meeting virtually via Zoom on Wednesday, June 17, 2020 at 4:30 PM Eastern Time.  To register for the annual meeting, click here – once registered, you will receive a confirmation email containing information on how to join the meeting.
Ready to vote?
Visit https://cuanswers.simplyvoting.com/ and follow the instructions in your email.
(If necessary, you can change your vote during the Annual Stockholders Meeting on Wednesday, June 17).