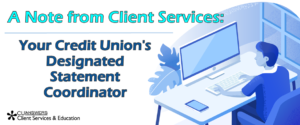 ATTENTION ONLINE CREDIT UNIONS
Our Client Services and Education Team has been working on a project to designate one employee at each of our network credit unions as the 'Statement Coordinator'.  This Statement Coordinator will be the individual who we first engage with on any questions relating to your member statements.  At this point, we have reviewed your CU File Maintenance to see which employee(s) log in monthly to update the insert instructions in Tool #914 Update Statement Msg/Insert Instructions.  We have identified these employees and have assigned them as the Statement Coordinator in your Credit Union's Customer Profile.
Please review Tool #1008 Your Customer Profile to see who has been assigned as your Credit Union's Statement Coordinator.  If you would like a different employee assigned as the Statement Coordinator, please submit your revisions using our 'Keeping the Connection' form.