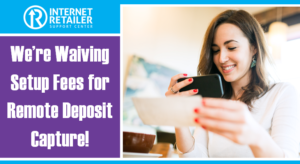 We are excited to announce a special promotion for credit unions using the CU*Answers mobile app – for those credit unions who do not yet use Remote Deposit Capture (RDC), we are currently waiving the setup fee for RDC!
CU*Answers recently launched a credit union who was looking to get started with RDC within just 7 business days!  If you would like additional information, or if you are ready to place your order today, click the button below to visit our store.
As a reminder, your credit union can also take advantage of MACO (Multiple Authentication Convenience Options), which allows for quicker and more convenient authentication into your credit union's mobile app.  Follow the link below to visit the IRSC online store for additional information, or to place your order today!