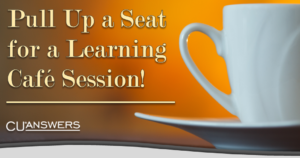 Here comes another Learning Café session!  Do you have members requesting to post their paycheck to their account a day early?  Use the CU*BASE on-demand one-time posting feature.  Once activated, your employee can post your member's pending deposit by selecting the 'GO!' button above the ACH column in Phone Operator, then selecting the pending transaction.  Join the Client Services and Education Team to learn more about how this feature works and how to get started with your CU*BASE configuration.
Tuesday, April 28
10:00 AM – 11:00 AM ET
Don't forget: CU*Answers web conferences are always free to attend!