Is your credit union looking to engage with new education and training opportunities?  We've compiled a selection of resources offered by the CU*Answers Client Services and Education Team which can help your employees become more familiar with CU*BASE tools, software and processes.  These resources are FREE of charge with many opportunities available via a stable internet connection, allowing your remote employees to continue their education goals outside of the office.
The Client Services and Education Team is available Monday through Friday, 7:30 AM until Midnight ET to help support your credit union's continued educational journey.  Reach out to us via phone at (800)327-3478 if you are interested in utilizing any of the options detailed below!
The following options require only an internet connection:

Providing access to nearly 240 videos, the CU*Answers OnDemand site is the main repository for videos on CU*BASE and related products and services. The site includes CU*BASE how-to videos, release training webinar recordings, online banking tutorials, client and member marketing videos, CU*Answers training event videos, and more!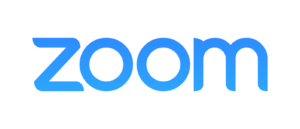 Webinars are a great choice for those who prefer a virtual learning environment that involves some level of interaction with the instructor and other participants. For a complete list of pre-scheduled webinars, visit the CU*Answers University Course Catalog.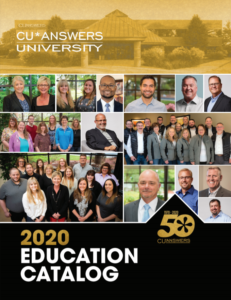 CU*Answers University offers a wealth of on-demand courses, both credit union-specific and CU*BASE courses, all available at no charge through the CU*Answers University free online campus. Many of the courses listed have an on-demand course equivalent. Take advantage of the following:
Examples:
CTM 101: CU*BASE Navigation
CTM 400: Teller Processing 1
CTM 900: eReceipts and Photo ID Capture
14 soft-skills and credit union-specific courses
17 compliance courses
To learn more about this resource, contact the CU*Answers Client Services & Education team at education@cuanswers.com.
The following options require an internet connection and CU*BASE access: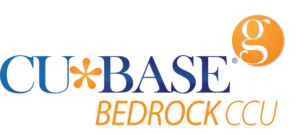 With the Bedrock Community Credit Union simulated training environment, CU*BASE users can practice using the software without the worry of affecting real member data. Bedrock is set up just like a real credit union, but without links to outside vendors. This shared training resource is available to all online credit unions free of charge. Users can add members, modify accounts, and conduct transactions. Configurations are generic, using settings typical to most online clients, and access is limited to basic member service, lending, and accounting functions.
Whether introducing new employees to CU*BASE or helping existing employees practice new skills, the Bedrock Community Credit Union training environment is perfect for keeping CU*BASE users up to speed on the tools they'll use every day to serve their members. To request credentials to access Bedrock, contact the CU*Answers Client Services & Education team at education@cuanswers.com.
Exercises for Success
Designed for use with CU*BASE simulated training environments, this workbook series offers new CU*BASE users practical experience with common CU*BASE tasks. The series comprises three workbooks that reinforce key areas of credit union operations: member service, teller processing, and lending. Each workbook includes helpful instructions that guide learners in selecting appropriate accounts for use while practicing the activities covered in the booklet. Activities are based on common member scenarios and are followed by a knowledge check that learners can use to gauge their progress. The workbooks can be downloaded as PDF booklets here: