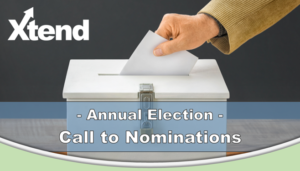 ATTENTION ALL XTEND STOCKOWNER CEOS
One of the greatest assets Xtend has to offer is that the people who lead our CUSO are the same people who own it and participate in it as partners. Our Board of Directors consists of a diverse group of dedicated credit union CEOs that provide focused leadership, as each member has a vested interest in the success of Xtend clients.
The Nominating Committee will accept nominations from owners for service on the Xtend Board of Directors until March 31, 2020.  The nominating committee will present candidates to the Board at least 60 days prior to the Annual Meeting. After the Board Meeting, a notice will be sent to all owner credit unions with a sample ballot to be used at the Annual Meeting.
Questions?  Please contact us at: info@xtendcu.com