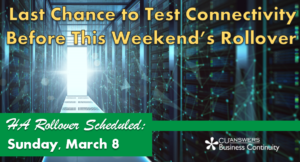 ATTENTION ONLINE CREDIT UNIONS
Perform your connectivity test before this weekend!
Don't forget: the next scheduled HA rollover will begin this coming Sunday, March 8, at 3:00 AM ET.  At that time, CU*BASE core-processing will be redirected from our primary production data center to systems at our high-availability (HA) data center.  We will continue providing live production of CU*BASE from the HA data center until the scheduled rollback beginning at 3:00 AM ET on Sunday, March 15.
During both the rollover and rollback events, there will be an interruption lasting approximately 60-90 minutes for CU*BASE core-processing applications, including CU*Talk audio response and It's Me 247 online banking (a splash page will be presented).  All processing for third-party EFT vendors will be performed using current stand-in configurations until CU*BASE is back online.
For this HA rollover, we will be operating live on a new HA server installed back in November.  If you have not done so already, it is important that you test connectivity to this new HA server as soon as possible, so that any issues can be resolved prior to the scheduled rollover.
Even if CU*Answers manages your firewall, we strongly encourage that someone at each branch tests connectivity from a GOLD workstation.  Use the links below to complete one or both of the connectivity tests.
Please contact the CU*Answers Network Services Help Desk at helpdesk@cuanswers.com if the tests above are unsuccessful.  Failure to complete the tests may result in CU*BASE/GOLD connectivity issues on the morning following the March 8th rollover event.