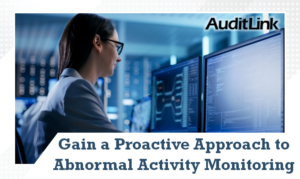 A powerful addition to the CU*BASE platform, the abnormal activity monitoring tool is designed specifically to help your team uncover high-risk member activity.  Looking to respond to growing trends in fraud, identity theft or elderly abuse?  This tool will help you sift through transaction activity from every origin on the system in seconds and will display accounts which warrant additional research and review.
We offer two options for abnormal activity monitoring: the first is a one-time configuration of the tool, with a web conference to walk your team through how it can be utilized for monitoring high-risk accounts.
The second is a full-service performed by the AuditLink team, which includes the configuration, review of account transaction activity, and a monthly report provided to your credit union.