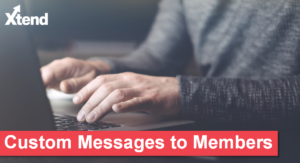 Did you know Xtend can send your members messages via online banking, plain text email or HTML email?
If you need Xtend's assistance in getting a message out or pulling an email list, click the button below to complete our form for Custom Member Contact Messages.   Please note – requests received will be processed on a first-in, first-worked basis.
Several credit unions have recently asked what stand-in services Xtend can offer.  Please contact us at info@xtendcu.com if you would like to discuss these options, or visit our website for details.