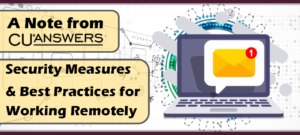 In this time of change, some workplaces are shifting toward options that allow employees to work remotely.  We would like to take a moment to remind clients of some important best practices and security measures:
Increase your diligence and exercise caution when responding to emails and phone requests.
Think carefully before you click on a link (does it look suspicious?)
Be wary of emails that include COVID or Coronavirus as their subject line or subject matter.
Your credit union may experience an uptick in phishing attacks from outside parties.
If you are unsure if an email is legitimate, contact your support team or help desk.
If in doubt, throw it out!
Encourage your team to not let their guard down – continue to remind staff of these security measures during the coming weeks (whether they are working remotely or in the office)!