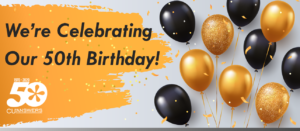 CU*Answers is celebrating our 50th birthday today!  While we will be celebrating 50 years as a CUSO throughout the 2020 fiscal year, February 11th is the official date when our CUSO was first organized.  Our teams would like to thank you for your support throughout the years – we look forward to carrying cooperative strategies forward in this new decade and beyond!
Join us in celebrating this occasion!  Your staff can submit a team photo or record a birthday video, which we will post online to share with the network.  Click here to upload your submission!
As a reminder, we are also inviting clients to share some favorite memories and accomplishments from throughout the years.  We'd love to see your stories, photos and videos, and look forward to sharing memories from the past 50 years!