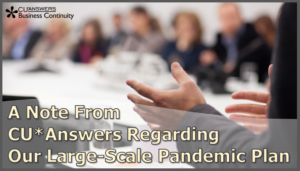 With media escalating awareness of the recent COVID-19 outbreak, several credit unions have reached out to CU*Answers asking about our large-scale pandemic plans. Our team would like to share our response with the CU*BASE credit union network.
Planning and preparing for disruptive events, whether the result of a natural, man-made, or technology incident, is the foundation for the Business Continuity Management Program. Part of the program is preparing and planning for a pandemic scenario with the potential to generate a large-scale absence of staff, impacting our ability to deliver and support our products and services.
A portion of the preparation stage at CU*Answers includes working with each business unit to determine minimum required staffing levels, adequate cross-training of staff, and options for working remotely when necessary. To test our capabilities, we've operated on days with as many as 30% of staff working remotely, with the capacity for several more remote workers.
Our ORD/HR team coordinates information and reminders to staff of proper hygiene during seasonal influenza months and encourages them to remain at home when ill. During significant outbreaks, executive management may restrict events that involve staff travel and on-site or off-site engagements to minimize the risk of exposure to staff and guests.
In addition, CU*Answers is engaged with vendors (through AuditLink) to monitor their response plans and track capabilities for functions that could have an impact on our operations,  such as supplying hardware replacement parts for systems and support services.
We will continue to monitor the COVID-19 outbreak and make decisions if any of the triggers are detected that would invoke the next steps in our response process. We will communicate any actions and alerts with you through the established channels as necessary.
The "Large Scale Absence Policy" is available as part of our CU*Answers Policy Manual on our web site along with several other vendor due diligence materials.
If you have any additional questions, please contact the Business Continuity team via email at: BusinessContinuityTeam@cuanswers.com.