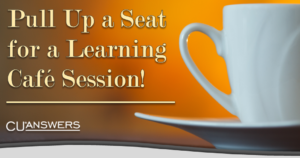 Here comes another Learning Café session!  Looking to learn which members are calling your credit union?  Join Sarah Ashby, Data Analyst with Xtend, as she discusses Wrap-Up Codes and how these can greatly expand the ability to provide insight into call center operations, including who is calling and what they are calling about.
Tuesday, February 11
3:30 PM – 4:00 PM ET
Don't forget: CU*Answers web conferences are always free to attend!