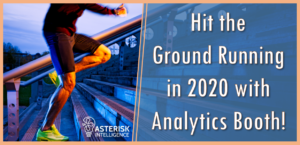 Elevate your operations in 2020 and impress your board with enhanced reporting and trending metrics powered by Analytics Booth!
Enjoy hundreds of operational trend lines and organizational insights accessible anywhere you have an internet connection.  Stop waiting for the end of the month to review your performance – enjoy daily insights at 24 hour intervals, providing you with current information when you need it.
Quickly compare your operations to custom-built peer groups for benchmarking, or create custom alert rules to automatically notify you when notable events occur.  Don't miss a beat with Analytics Booth – make 2020 the year to leverage your data and enhance your operational insights!
Or reach out to us at ai@cuanswers.com to schedule your free demo.