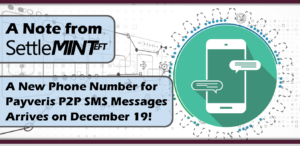 Attention Payveris clients: the phone number associated with P2P transfers will soon be changing!  Previously, when P2P recipients received SMS messages, the messages would originate from an 860 number.  Beginning on Thursday, December 19, these SMS messages will now originate from an 855 number.
Payveris has opted to change this number because use of the toll free 855 number improves the likelihood that Sprint and T-Mobile will deliver SMS/text messages to recipients of P2P transactions, rather than having these messages blocked by the carriers – specifically with text messages that include a URL link in combination with a '$' sign and a numeric amount.
If you have any questions, please reach out to SettleMINT EFT at settleminteft@cuanswers.com.