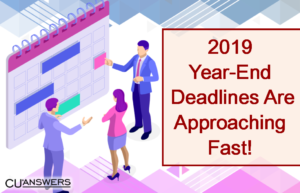 **This message applies only to credit unions that received the accompanying email**
Year-end can be a busy time! Our teams are hard at work preparing for the first deadline, this Friday, November 8. The majority of credit unions have completed their task, however, your credit union is receiving this email as our records show that your credit union has not yet completed the tax form handling screen.
You can update your Tax Form Handling Instructions  via Tool #916 in CU*BASE at any time, and continue to make changes if needed until 8 PM ET on Friday.
After the deadline you will need to contact the Client Services and Education team for assistance. As a reminder, failure to complete year-end processing tasks prior to the assigned deadline may cause your credit union to incur a fee!
You may be contacted this week by a member of our Client Service and Education team to ensure that you will not have trouble meeting the deadline. If you have already completed your instructions, you may disregard this email.