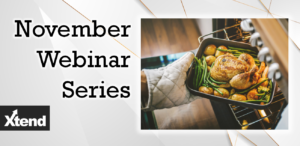 Coming Up This Week!
Each month, Xtend offers FREE webinars focused on lending, marketing, and member service; these engaging webinars provide credit unions with helpful products, services, and industry tips to give them the leading edge.
Tuesday, November 5
2:00 PM – 2:30 PM ET
Business Texting 101 (Powered by Zipwhip)
Make things convenient and personable for your members by text-enabling your existing landline.  This powerful communication tool is beneficial to both your members and your staff when trying to assist with many member needs.  Your members will be able to text things like "HOURS" and automatically receive your pre-configured response, putting YOU in control.  Other options include applying for loans via an online loan application (if your credit union provides a mobile-friendly option).
You can test it for yourself to experience how easy it is – text "PRICING" to (866) 981-4983 and receive an automatic reply in seconds!
Join us to learn more about Business Texting powered by Zipwhip.
Wednesday, November 6
2:00 PM – 2:30 PM ET
Losing the Love: Recapturing Your Memberships
Members don't always verbally tell you that they're leaving the credit union, but their actions often do.  Xtend has studied the steps that members take before they completely leave the credit union, and have put action items and follow ups to help you keep more members around.
Recapture the love your members are losing with Xtend's Losing the Love marketing program, and increase your member retention today!
Thursday, November 7
2:00 PM – 2:30 PM ET
Contact Center Service – Strengthen Relationships One Conversation at a Time
The Xtension Contact Center has varying services available including custom call campaigns that you're able to organize depending on your needs.  Among the Xtension Contact Center services are inbound member service calls, targeted outbound campaigns, web chat, and others that will be discussed in the webinar!
Join us to learn more about the many services our comprehensive Xtension Contact Center can offer you!