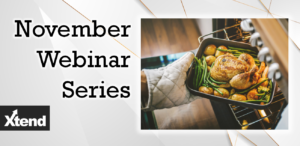 Coming Up Next Week!
Each month, Xtend offers FREE webinars focused on lending, marketing, and member service; these engaging webinars provide credit unions with helpful products, services, and industry tips to give them the leading edge.
Tuesday, November 12
2:00 PM – 2:30 PM ET
Data Analytics dives deeper into your membership and their behaviors to improve the way credit unions are communicating with their members.  Whether it's evaluating your phone services, the members that hold your credit card, or a recent marketing effort, our Data Analytics department strives to find you answers to your everyday questions, and pose more advantageous inquiries regarding your member comprehension.
Wednesday, November 13
2:00 PM – 2:30 PM ET
RevGen: Delivering Your Marketing, Revenue and Lead Generation Goals
Xtend's RevGen program allows you to control your audience and marketing channels while we deliver marketing and revenue results right to you.  Use RevGen in combination with your own marketing efforts to maximize lead generation with targeting and segmentation through Xtend.  We've got a RevGen program waiting for you!
Thursday, November 14
11:00 AM – 11:30 AM ET
Xtend Has a New Product – New Member Onboarding
What are you doing to onboard your new members?  Xtend is excited to announce the launch of our brand new product which is focused on providing a high quality and automated new member onboarding program for all credit unions.
Our series of personalized emails create both a welcoming and educational digital marketing path that will help guide your new members along the most important steps of their credit union journey.  Each new member will be automatically launched into this automated program upon opening of their membership.  Over the next 90 days, they will receive onboarding emails based on 8 pre-defined NMO touch points.  We will leverage live data and dynamic content to provide personalized and relevant content that can be specific to their unique memberships.
2:00 PM – 2:30 PM ET
Member Reach: Convenience, Simplicity and Control
Wouldn't it be nice if, when a member first joined your credit union, they received an automated "Welcome!" email?  What about for their birthday?
Member Reach can do that for your credit union!  Your members will receive automated messages for paid off loans, CDs approaching maturity, birthdays, and more!  You can customize these messages to display some elements of your brand and control what gets sent, and when.
Join us on November 14 to delve into the details of Member Reach and learn more about this program.  This webinar is geared towards non-current Member Reach clients who would like to learn more about the program and any current Member Reach client that would like to brush up on their Member Reach education.