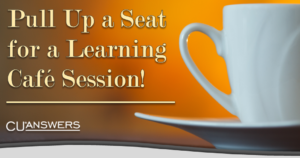 Here comes another Learning Café session!  Join Pete Winninger, VP of Professional Services with Lender*VP, as he discusses new features from the recent 19.10 release of CU*BASE.  Topics will include:
Easily updating collateral records in the CU*BASE LOS with Kelly Blue Book Value
Creating a skip-a-pay program for consumer loans with weekly and bi-weekly payment frequencies
Setting your review date default to months or years
Finding the right loan product with the new 'Search for Description Containing' filter
Automating the removal of debt protection premiums for delinquent members
Additional data fields retained at the time of loan creation
Wednesday, November 20
11:00 AM – 11:30 AM ET
Don't forget: CU*Answers web conferences are always free to attend!