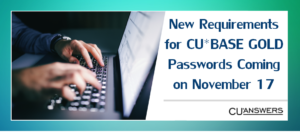 ATTENTION ONLINE CREDIT UNIONS
Changes are coming that will impact how CU*BASE login passwords will work.  With this upgrade, the following requirements will apply to each new password in CU*BASE GOLD:
Require 1 digit (numeric)
Require at least 1 uppercase character and at least 1 lowercase character
Username cannot be used within a password
Minimum length of a password must be 8 characters
Maximum length of a password will be 20 characters
Require 1 special character
Passwords will expire every 30 days
Password cannot match the last 32 passwords used
Please Note: these requirements apply only to your CU*BASE login.  The rules for passwords for your 2-character employee ID will not be changing.
Important Things to Keep in Mind
When this change is enacted, you will not be forced to immediately change your password.  However, when your current password expires or requires a reset, you will be presented with a window that contains helpful reminders of these new password requirements (see image below).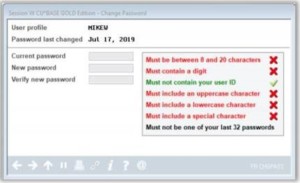 To avoid being locked out on the 17th, enter your current password in either ALL uppercase or ALL lowercase (but no mixed casing), regardless of how you are entering it now.  Then, the next time that you change your password following this update, remember to refer to the new requirements for characters and mixed casing.
Remember that as always, it is up to your credit union's security officer to reset passwords for people who lock themselves out.  Make sure your security officer will be available, especially throughout that week!  As always, if you call our CSR team for a reset there will be a fee and you may not be able to get in immediately as we may need to verify with someone in authority at your credit union before proceeding.
Maintenance will begin at 4:00 AM ET on Sunday, November 17th, and will last until approximately 6:00 AM ET.  CU*BASE will be unavailable during this period.  This process will include tests to ensure that all features are functioning as intended.
For additional information on the 19.10 Release of CU*BASE GOLD, please refer to the Release Summary.