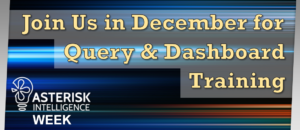 Join the Asterisk Intelligence team next month for several educational events.  On Monday, December 2nd, we will be hosting on-site training for Dashboards Up Close and Personal at our Grand Rapids headquarters.  Then, on Thursday, December 5th, we will be hosting a series of webinars on Analytics Booth strategies.
Our Report Builder courses are already full for December's Asterisk Intelligence Week, but we'd love to have you join us for either the on-site Dashboard training, the Analytics Booth webinars, or both!  These events are designed for credit union management, marketing staff, and database administrators.  Click the buttons below to register for your desired session(s).
Monday, December 2
9:00 AM – 4:00 PM ET
Register for Dashboard Training
Thursday, December 5
9:00 AM – 10:30 AM ET
Introduction to Analytics Booth
11:00 AM – 11:30 AM ET
Expanding the Audience on Data with Analytics Booth
2:00 PM – 3:00 PM ET
Data Warehouse Tools & Strategies
3:30 PM – 4:30 PM ET
Hot Topics in Database Management
Please be aware that seating is limited for these events.  Sign up today to reserve your spot!