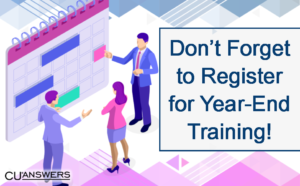 There's Still Time to Register for Year-End Training!
Like last year, the year-end training is combined for both online and self-processing clients. Approximately 15 minutes at the end of each training will be dedicated to solely self-processor year-end tasks.
The deadline to register for our November 20th session is Monday, November 18th.  If you are unable to make this session, there is still time to register for our second training session on December 3rd.
Wednesday, November 20
2:30 PM – 4:00 PM ET
Tuesday, December 3
2:30 PM – 4:00 PM ET
Keep up to date with tasks and deadlines in the:
2019 Year-End Processing Guide for Online Credit Unions
2019 Year-End Processing Guide for Self-Processing Credit Unions