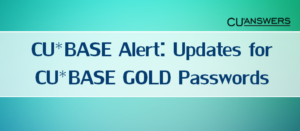 As a reminder, this Sunday, November 17th, we will be implementing changes that will impact how CU*BASE login passwords will work.  With this upgrade, new requirements will apply whenever a password is CHANGED in CU*BASE GOLD.  For a full list of details, please refer to our previous announcement.  Remember we cannot reset passwords for you, so make sure your security officer is ready to handle resets next week!
REVISED IMPORTANT:  Remember that while passwords aren't case sensitive today, they are actually stored as both all uppercase and all lowercase in the database.  So on Monday morning you can enter your existing password using all upper or lower, just not mixed casing.  Once you change your password after next Monday, then you'll need to enter it exactly how it you set it up.
We will post any/all updates relating to this upgrade on the CU*BASE Alerts page, compiled into a single alert located here.  We will not be sending out emails regarding individual updates or issues for this upgrade.  If you encounter any issues following the upgrade, please refer to the CU*BASE Alerts page to see if it is a known issue.