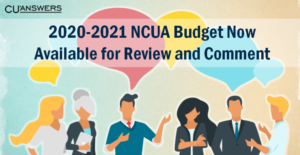 Last week, the NCUA budget for 2020 and 2021 was made available for review and comment.  We would like to ask all of our clients to go to www.NCUA.gov and take a look at the proposed budget, as well as participate in the Budget Briefing being held on November 20 at 10:00 AM ET and submit your comments on the budget by the close of the comment period on December 2, 2019.
The briefing on November 20 will be livestreamed on NCUA.gov and a large number of sign-ins to the briefing will certainly make an impression on the Board and Staff.  The same can be said if there are a large number of comments submitted by December 2.  We will be developing a brief for comment submissions and will be sharing it with all network partners after the budget briefing.
It is important for us to let the Board and staff know that we are paying attention to how the earnings from our $16 Billion insurance fund are being spent by our regulator.  A lack of interest could raise concerns and paint a perception that the money is theirs to spend as they like. Let's remind them that it is our owner's capital and that we seriously care about the stewardship expected of us by our members.
Please call Victor Pantea, Manager of Market Place Alliances, at 616-285-5711 x121 if you have any questions.  Or, contact Victor via email at: victor.pantea@cuanswers.com.