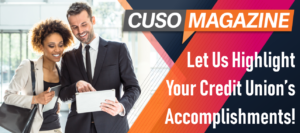 This summer, we began spotlighting articles on the new CUSO Magazine website, which featured insightful commentary on products and practices from the many teams here at CU*Answers.  Now we want to hear from you!  We are encouraging our network credit unions to submit press releases that we will publish through CUSO Magazine.  Increase visibility for your credit union and share your accomplishments with the network – submit your press release below!
The opportunity to submit press releases to CUSO Magazine will be a continued service going forward.  Have questions?  Don't hesitate to reach out to us at editors@cusomag.com.
Not yet subscribed to CUSO Magazine?  Follow the link below to stay up-to-date with the latest stories and editorial highlights.