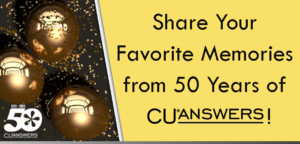 In 2020, CU*Answers will be celebrating our 50th anniversary!  As part of the anniversary celebrations, we would like to ask you, our clients, to submit some of your favorite memories from throughout the years.
What accomplishments or events is your credit union most proud of?  What were some significant challenges you managed to overcome or change you implemented?  What are some standout goals that this CUSO has helped to make into a reality for your credit union?
Share your stories, photos and videos by following the link below.  We look forward to hearing your stories of CU*Answers' history and sharing memories of the past 50 years!