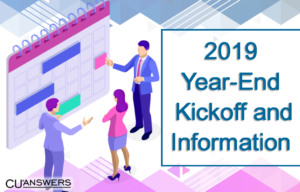 It's Time to Start Your 2019 Year-End Tasks
The 2019 Year-End Processing Guides are now available online!  See the links below to review the guides and meet the deadlines.  Printed copies of the year-end guides will be delivered to your credit union in the coming weeks.
2019 Year-End Processing for Online Credit Unions
2019 Year-End Processing for Self-Processing Credit Unions
Remember, your first task is due no later than Friday, November 8!
Update your Tax Form Handling Instructions (Tool #916) before November 8, and as always, ensure you're on track with your Month End Processing Tasks.
Self-Processing Credit Unions: confirm tax form archival instructions by completing the Tax Forms Archival Instructions form.
Year-End Training Information
This year, CU*Answers will offer two sessions of training, combined for both Online and Self-Processing clients. Approximately 15 minutes at the end of each training will be dedicated to solely self-processor year-end tasks.
Wednesday, November 20
2:30 PM – 4:00 PM ET
Tuesday, December 3
2:30 PM – 4:00 PM ET
Don't forget: the Client Services and Education team is available from 7:30 AM ET – Midnight, to assist your credit union with any questions you might have.
Reminder: Time Tested and Trusted Tips for a Smooth Year-End
Select a coordinator to assign tasks and ensure they are complete.
Review the guide carefully, including any post-publication updates.
Review deadlines in advance to avoid missing a task and incurring a fee.
Have all year-end staff attend year-end training.
Pay special attention to year-end emails as requirements may change.
Ask questions! Our teams are here and ready to assist.