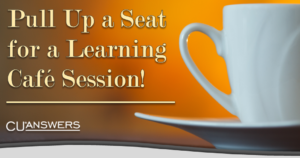 Here comes another Learning Café session!  Join Cody Smith and Jenn Baker of the Client Services and Education Team as they discuss helpful resources available in CU*BASE and on the CU*Answers website.  Topics will include current resources available to CU*Answers clients, CU*Answers University (including how to register) and CTE, our Customizable Training Environment.
Tuesday, September 24
2:30 PM – 3:30 PM ET
Don't forget: CU*Answers web conferences are always free to attend!