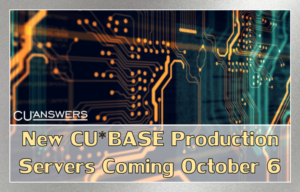 ATTENTION ONLINE CREDIT UNIONS
CU*Answers system maintenance scheduled for Sunday, October 6th from 1:00 AM to 10:00 AM EDT
As mentioned at the CU*Answers Leadership Conference back in June, we are gearing up launch our 50th fiscal year with a significant hardware upgrade project.
This fall, we are replacing the IBM POWER-i hardware that hosts the CU*BASE/GOLD application (PROD and HA) as part of our system development life cycle. Every three years or so, we reinvest in the latest technology to ensure that systems are capable of meeting the needs of today's users and scalable to meet the demands of tomorrow.
For those who may have missed the conference or would like to see a comparison of performance metrics for the existing and new systems, we have made available a chart which can be viewed  by clicking here.
The timeline we selected was intended to give us time to perform the necessary work to bring the new equipment online. We tried to keep the period of interruptions to a minimum, but we know it's important to everyone that it's done right and that we allow enough time to handle unforeseen issues that might arise.
Already today, the new servers have been installed and are part of the real-time data replication process.
On the morning of Sunday, October 6th, beginning at 1:00 AM EDT, teams will perform the process of rolling production from the existing PROD host to the new PROD host. The steps are identical to the familiar HA rollover, except in this case, the old and new servers exist in the same primary production data center.
Event Timeline: Beginning Sunday, October 6 at 1:00 AM EDT
| | | | | | |
| --- | --- | --- | --- | --- | --- |
| EDT | CDT | MDT | PDT | HST | Process |
| 1:00 AM | 12:00 AM | 11:00 PM | 10:00 PM | 7:00 PM | Rollover to new PROD server begins |
| 5:30 AM | 4:30 AM | 3:30 AM | 2:30 AM | 11:30 PM | EOD/BOD processing begins for all time zones |
| 8:00 AM | 7:00 AM | 6:00 AM | 5:00 AM | 2:00 AM | Final preparations before new PROD is online |
| 10:00 AM | 9:00 AM | 8:00 AM | 7:00 AM | 4:00 AM | Credit unions open for Sunday business day |
As you can imagine, there are several tests and audits that must be performed to ensure that all data has synchronized and that all applications are functioning properly when operating live on a system for the first time.
At approximately 5:30 AM EDT, operators will begin the EOD/BOD process for all CU*Answers online credit unions. During this time, CU*BASE/GOLD will be offline for staff, online and mobile banking users will be presented a splash page informing them of the system maintenance period, CU*TALK will be unavailable, and all third-party EFT vendors will operate in "stand-in" mode.
After the completion of EOD/BOD processing, teams will perform additional tests and audits to address any issues that may surface, before bringing CU*BASE/GOLD online before credit unions open for business at 10:00 AM EDT.
To summarize, online and mobile banking for CU*Answers credit unions will be offline during the rollover as well as during EOD/BOD processing for all time zones: from 1:00 AM ET to approximately 10:00 AM ET.
There is nothing that you need to do at the credit union other than making your staff and possibly your members aware of this maintenance period. We do encourage credit unions to assign a few select staff to arrive an hour early on Monday, October 7 to confirm access to CU*BASE/GOLD and to report any issues. Additional announcements and alerts will be issued as we get closer to the date.
This is a project that we perform approximately every three years as our commitment to investing in new technology to ensure the performance of the applications your staff and members use. Our experienced teams will take the necessary steps to minimize the impact while at the same time ensure that the new system is ready when you open your doors to serve your members. Thank you for letting us be a part of that.