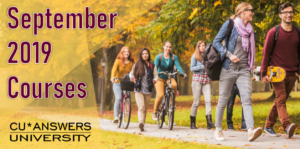 Each month, CU*Answers University hosts FREE web conferences and in-person events that highlight the many products and services our CUSO offers.  Take a look at the courses we have coming up in September!
Tuesday, September 3
3:30 PM – 4:30 PM ET
Member Service Trackers, Leads, and Follow-Ups
Wednesday, September 4
1:30 PM – 2:00 PM ET
Educating Your Board with Data
Wednesday, September 11
3:00 PM – 4:00 PM ET
CU*Statements
Thursday, September 12
9:30 AM – 10:00 AM ET
Preparing for a Cybersecurity Incident Response
Register for classroom session
Tuesday, September 17
10:00 AM – 10:30 AM ET
Web Accessibility and You
Monday, September 23
2:30 PM – 3:00 PM ET
An Overview of Records and Information Management
Thursday, September 26
9:30 AM – 10:30 AM ET
Providing First-Class Customer Service to Members
Register for classroom session
2:00 PM – 3:00 PM ET
SRS Bookkeeping Services – Sharing Our Policies and Procedures
Don't forget: CU*Answers web conferences are always free to attend!