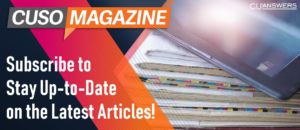 As discussed at this summer's Leadership Conference, CUSO Magazine offers a variety of articles written by CU*Answers staff.  Check out some recent highlights below:
Why Not Send a Fax? by Thomas Hull, Business Intelligence Analyst, Asterisk Intelligence
Going Back to the Basics to Prevent Embezzlement by Jim Vilker, VP of Professional Services, AuditLink
What Have I Got in My Pocket? (Hint: It's Not a Ring) by Jeff Miller, OpsEngine Business Development Manager
Visit the CUSO Magazine website to read these and other articles, presented by the unique voices here at CU*Answers!  Subscribe today and stay up-to-date with top stories and editorial highlights.