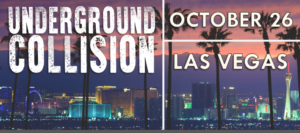 Join us at the first ever Underground Collision with Money20/20 in Las Vegas on Saturday, October 26.  Money20/20 is the world's largest Fintech and Payments event, and we want credit unions to make a statement on our relevance in the financial industry.
You do not have to be registered to attend Money20/20 to go to the Underground Collision.  This is your personal invitation to join us the afternoon prior to Money20/20 to deliver a message: Credit Unions Mean More Than Money!
When: Saturday, October 26 from 1:00 PM – 5:00 PM, with reception immediately following.
Where: The Zappos Headquarters in Las Vegas, in their WoW Theater.