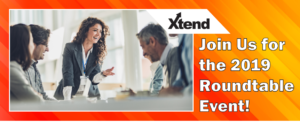 Announcing the 2019 Xtend Roundtable Event!  This is an opportunity for credit union professionals to come together and discuss best practices, share thought-provoking insights, and analyze successes and opportunities from the past year, while also looking forward at trends for the future.
Join us for this three day event which will focus on various departments, discussions, and training opportunities.
On Monday, September 9th, we will host the Sales and Marketing Roundtable.
On Tuesday, September 10th, we'll dive into informative segments with a few guest speakers, as well as training opportunities.
On Wednesday, September 11th, we will host the Contact Center Roundtable.
This roundtable event will be hosted at our Xtend Headquarters, located at 6000 28th Street SE, Grand Rapids, MI 49546.  Follow the link below to register!
The deadline to RSVP is Wednesday September 4th.
If you would like to attend this event but are unable to make it to our Grand Rapids headquarters, please note this in your registration and web conference details will be provided to you.