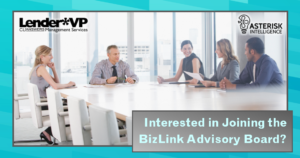 CU*Answers is excited to announce our BizLink advisory board for 2019 and 2020!  This board will consist of six CU*Answers credit unions, and will place emphasis on designing the Commercial/Business Member platform and services within CU*BASE.
This advisory board will be tasked with documenting native tactics, integration tactics, referral tactics and market intelligence accumulation – all of which will help to shape commercial and business opportunities.  Members will be required to participate in quarterly advisory meetings – our first meeting will be hosted at CU*Answers on October 15th.
Currently, four of the six board positions have been filled, and we are looking for two more credit unions to participate.  If your credit union is interested in joining and would like to know more, please reach out to us via the link below.