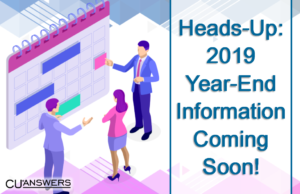 Counting Down to 2019 Year-End Tasks
As summer is coming to a close, we are busy verifying deadlines, completing the year-end guides, and preparing for training here at CU*Answers.  While Year-End Processing Guides won't be arriving to your credit union until later in the fall, we wanted to send a reminder to your credit union so that can keep the following items on your radar as we begin to count down to the end of the 2019 calendar year:
As in years prior, CU*Answers will offer year-end training sessions for clients.  Keep an eye on your inbox, as we will deliver more detailed information regarding this soon.
Reminder: Time Tested and Trusted Tips for a Smooth Year-End
Select a coordinator to assign tasks and ensure they are complete.
Review the guide carefully, including any post-publication updates.
Review deadlines in advance to avoid missing a task and incurring a fee.
Have all year-end staff attend year-end training.
Pay special attention to year-end emails as requirements may change.
Ask questions! Our teams are here and ready to assist.