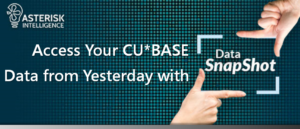 Available as a free feature within CU*BASE, SnapShot is a rolling End-of-Day (EOD) copy of core data, which can provide valuable access to a new time slice of data for your credit union analysts and database administrators.
Using SnapShot grants your credit union the ability to Query the SnapShot library (FILExxSS), which holds EOD copies of all data tables that live in FILExx (the Core).  SnapShot data refreshes with each EOD cycle and represents a static point in time for data tables found in the Core.
Best of all, signing up for SnapShot is free!  Follow the link below to visit our store.