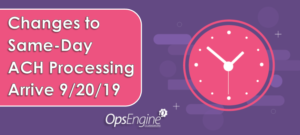 As a reminder, beginning in September, changes required by the Federal Reserve Bank (FRB) will go into effect and same-day items in the FRB 12:00 PM ET cutoff file must then be posted by 1:30 PM ET.  This new rule will go into effect on Friday, September 20th.  Because of this, we will start processing ACH configuration #2 on Monday, September 9th, and ACH configuration #2 has been activated.  You may now make updates to this configuration, which has been flooded to "Post credits only".  Always carefully consider any changes you make to your ACH configuration.
Also on September 9th, we will begin receiving the FRB cutoff file prior to the current 10:00 PM ET posting.  Note that receiving and posting reports for this 10:00 PM ET file will cycle to your NIGHT outq at end-of-day/beginning-of-day (and may be configured to print).  Your credit union may also need to look in CU*Spy to view ACH reports from the 10:00 PM ET posting.
For additional information, click here to visit the AnswerBook.  Or, visit the OpsEngine webpage.