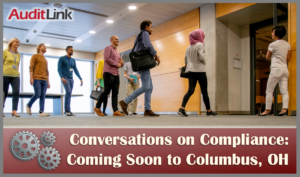 Join Jim Vilker, NCCO/CAMS, VP of Professional Services with AuditLink and Marvin Johnson, CAMS/CFE, Assistant Manager of AuditLink, for a day of compliance and auditing best practices, as well as an opportunity to interact with your peers.  This event will be held on Wednesday, September 11 at Pathways Credit Union, located at 5665 N Hamilton Road, Columbus, OH, 43230.
9:00 AM to 10:15 AM – Presentation by Jim Vilker and Marvin Johnson on taking the risk assessment process to the next level.
10:30 AM to 11:45 AM – Presentation by Jim Vilker on appropriate internal controls.
11:45 AM to 1:00 PM – Lunch and free time to explore the campus.
1:00 PM to 2:00 PM – Marvin Johnson will discuss compliance-related release items from the last four releases, as well as what's coming next.
2:00 PM to 3:30 PM – A roundtable discussion on hot topics, compliance tool training, and the future of abnormal activity monitoring.