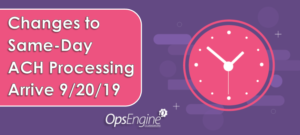 As mentioned earlier this summer, beginning in September, changes required by the Federal Reserve Bank (FRB) will go into effect, and same-day items in the FRB 12:00 PM ET cutoff file must then be posted by 1:30 PM ET.  This new rule will go into effect on Friday, September 20th.  Because of this, we will start processing ACH configuration #2 on Monday, September 9th, and ACH configuration #2 will be flooded to "Post credits only".  At the same time, we will receive the FRB cutoff file prior to the current 10:00 PM ET posting.
Of note: the receive and posting reports for this 10:00 PM ET file will cycle to your NIGHT outq at end-of-day/beginning-of-day (and may be configured to print).  Your credit union may also need to look in CU*Spy to view ACH reports from the 10:00 PM ET posting.
For additional information, click here to visit the AnswerBook.  Or, visit the OpsEngine webpage.