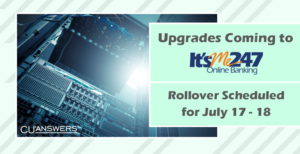 As mentioned in our previous communications detailing the PIB rollover that occurred in May, CU*Answers will be performing a full rollover of It's Me 247 this summer.  This rollover is scheduled to begin on Wednesday, July 17 at 6:00 AM ET and will conclude on Thursday, July 18 at 6:00 AM ET.  This process will see a rollover performed for It's Me 247 Online Banking, Mobile Banking and Loan Applications, It's My Biz 247, PIB, Text Banking, and APIs.  These services may be unavailable for up to 30 minutes during the rollover and rollback.
This rollover may impact not only your credit union tellers and staff, but your members as well.  As such, we will be asking your credit union to take an active role in shaping our rollover solutions for It's Me 247, by testing these services, gathering feedback from your members, and communicating any issues encountered (including check images) to the Client Services team at CU*Answers.
Below are some suggested questions your credit union can ask members, in order to gather feedback:
Which web browser they use when accessing It's Me 247, including the version.
What operating system they use, including the version.
Are members using desktop banking, mobile app or mobile web?  If they are using mobile banking or mobile web, which version?  (This can be located under 'Settings and Info' for mobile app.)
What device did a member use?
What time did members experience issues?
If members encountered an error message, what did it say?  Did they take a screenshot of the error message?