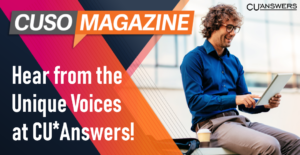 Have you heard about CUSO Magazine?  As discussed at this summer's Leadership Conference, CUSO Magazine offers a variety of articles written by CU*Answers staff.  Check out some recent highlights below:
The Big Business of Cybercrime by Dave Wordhouse, EVP of Technology and Patrick Sickels, Internal Auditor
The Top 4 Pages On Your Credit Union Website by Tony Muka, Web Applications Developer
Why Don't Credit Unions Tell Members How They Make Money? by Dawn Moore, VP Writing Team/Product Design
Visit the CUSO Magazine website to read these and other articles, presented by the unique voices here at CU*Answers!  Subscribe today and stay up-to-date with top stories and editorial highlights.