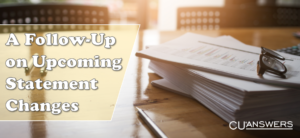 ATTENTION STATEMENT PROCESSING CONTACT
Recently, your credit card statement vendor was notified of changes to the flat file for credit card statements to accommodate a revised layout so that "Fees" and "Interest Charged" are separated out per the requirements of Reg Z.  The notification also includes updated Statement Field Rules that comply with the new layout.
A sample of this notification was attached to an email that was sent to your credit union.  The impact that these changes have on your credit union's credit card statements may vary, depending on how your statements are configured to generate in CU*BASE.