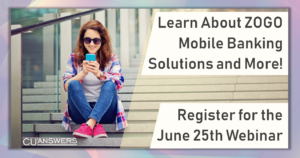 ZOGO is a white-labeled mobile banking solution that focuses on youth marketing strategies, and is backed by behavioral economic research.  ZOGO provides convenience and control for parents, education for teenagers, and differentiation options for credit unions.
Join Variable Ventures for the second webinar in their series as they introduce new solutions from innovators and incubators in the Midwest and around the country.  This webinar will include Fintech solutions, as well as management and operations solutions that can be applied in a variety of business scenarios.
Tuesday, June 25
2:00 PM – 3:00 PM ET
For more information on ZOGO solutions, visit ZOGOfinance.com.