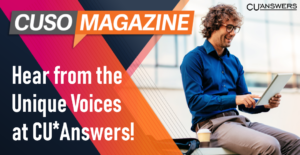 Have you heard about CUSO Magazine?  As discussed at this summer's Leadership Conference, CUSO Magazine offers a variety of articles written by CU*Answers staff.  Check out some recent highlights below:
The Five Keys to Internet Retailing by CEO Randy Karnes
The Logic and Lipstick of GUI Design by Amanda Grieves, Technical Writer
Is a Smiley Face a Legal Electronic Signature? by John Beauchamp, VP of Professional Services, Imaging Solutions
Visit the CUSO Magazine website to read these and other articles, presented by the unique voices here at CU*Answers!  Subscribe today and stay up-to-date with top stories and editorial highlights.