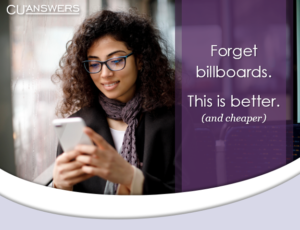 Here's an advertiser's secret: It's not about advertising anymore.  It's about educating.
"Let's look at a case study of an industry that is faced with some of the greatest hurdles when it comes to trust in the eyes of the consumer, where traditional marketing approaches no longer attract consumers to become customers: The Financial Services industry. This industry suffers from a lack of an education-based approach and the gap between consumer understanding and the professional is an ocean. Where there is such a gap, the void must be filled through education, through information, through knowledge – not just direct marketing."  (Source: Forbes)
Build trust in existing members and confidence in new ones with the CU*Answers Video Customization Service!
Have any of our member-facing videos customized with your credit union branding or have us create a new video about your credit union and its products and services!
You give us the ideas, we'll do the work!
Email contribute@cuanswers.com and let us know what you're thinking!  We'll provide a custom quote and get started on your project!