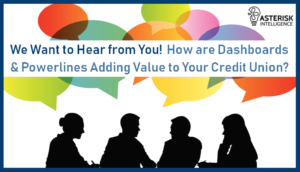 Earlier this year, the 19.02 Release of Analytics Booth debuted the first web integration between CU*BASE and Analytics Booth via Powerlines and Web Version features.  This Analytics Booth release also saw the introduction of the first web dashboard to contain private data.
How has your credit union been utilizing these features?  If you have ideas for additional Dashboards or Powerlines that you would like to see integrated into the Web, we want to hear from you!  Contact us at: ai@cuanswers.com  Or, if you missed the release review, click here for all the info!
Ready for more?
10 new Power Line web integrations are now available, following the 19.05 Release of CU*BASE.  In June, the 19.06 Release will see the debut of Analytics Booth Peer Comparison, which grants the opportunity to compare your credit union's operational trends to customizable peer groups.  Look for more information on these new features to be delivered to your inbox soon!