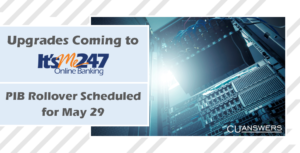 On Wednesday, May 29, CU*Answers will perform a rollover of PIB, as part of our ongoing efforts to better prepare ourselves for potential service outages and disaster recovery scenarios.  This process will see the PIB portion of It's Me 247 Online Banking rolled over to the servers at our 28th Street location.  The rollover is scheduled to begin at 6:00 AM ET, and will last until Noon when we perform the rollback.  PIB may be unavailable for up to 30 minutes during the rollover and rollback.
This rollover will impact not only your credit union tellers and staff, but your members as well.  As such, we will be asking your credit union to take an active role in shaping our rollover solutions for It's Me 247, by testing PIB, gathering feedback from your members, and communicating any issues encountered to the Client Services team at CU*Answers.
Don't use PIB yet?  Click here to learn more!
By engaging directly with our network credit unions, we hope to provide additional opportunities for constructive solutions and a deeper understanding of the rollover process.  This process will also help us to prepare for a full It's Me 247 rollover that will occur later this summer.