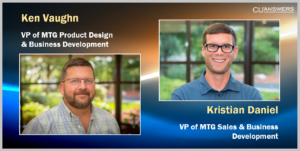 Ken Vaughn will become VP of MTG Product Design & Business Development and Kristian Daniel VP of MTG Sales & Business Development
Over the last four years, CU*Answers has built a mobile app program that now supports over 400 credit union mobile banking applications that are live in the iOS and Android stores today. The team has continued to evolve over that time, most recently with the addition of the Mobile Technologies Group, and always with a focus on tackling challenging projects such as RDC, biometric authentication, credit card controls and push notifications. From this foundation CU*Answers is ready to take our mobile products and services to the next level. Over the next year we will be aggressively pushing to increase MTG brand awareness and custom development initiatives by promoting two leaders who helped architect and shape this program.
Ken Vaughn, VP of MTG Product Design & Business Development
We are excited to announce the promotion of Ken Vaughn to Vice President of Mobile Technologies Group, Product Design & Business Development. As vice president, Ken will continue to drive the success of the MTG with a focus on the management and aggressive expansion of our mobile products and cross team solutions.
Ken began his career at CU*Answers in 2011 as a front-end developer and UI architect for the ASP team. He designed, developed and led various UI projects for individual and business online banking, membership and loan applications, while improving user experience and ensuring compatibility with various browsers, tablets and mobile devices.
In 2014, Ken was tasked with creating and managing a new mobile and web application development team called the Mobile App Development team (MAD). The team's focus would be to build our first highly customizable white-labeled mobile banking app along with a new member account opening, verification and funding process. To maintain the magnitude of product configurations and processes, Ken built a web-based content management system that would later evolve into a robust client facing product called CU*Publisher. This led to the creation of two additional self-service products: Forms Generator and Request Center, a web-based custom forms generator and submission platform.
In 2017, Ken was asked to merge the talents and improve cross team development processes of both the MAD and online banking teams to form the Web & Mobile Development team (WMD). In November 2018, Ken was announced as the manager of the newly formed MTG with a focus on creating highly configurable and marketable mobile & web application products members would love.
Please join us in congratulating Ken on his contributions to the organization and wishing him success in this new role.
Kristian Daniel, VP of MTG Sales & Business Development
We are thrilled to announce the promotion of Kristian Daniel to Vice President of Mobile Technologies Group, Sales & Business Development. In his new role, Kristian will continue to drive the business direction and growth of online ordering as well as facilitating the marketing and educational opportunities for self-service MTG products and services. There is no doubt Kristian will continue to provide excellent customer service while increasing brand awareness and network participation.
Kristian joined CU*Answers in 2012 with the Client Services & Education team where he quickly gained knowledge and expertise of our core CU*BASE platform through training, client support and other educational opportunities. In 2015, Kristian was asked to help build the brand, products and services for a new client facing online store called the Internet Retailer Support Center (IRSC). Primarily focused on MTG products, this CU*Answers Online Store has generated over 1,000 store orders from over 50 products. Kristian has played a key role in the growth and success of IRSC by providing ongoing client communications, webinars, demos and overall excellent customer service.
Additionally, Kristian has worked with over 200 credit unions to set up and configure over 400 credit union Android & iOS mobile apps, over 150 credit union membership opening sites, along with onboarding credit unions who use CU*Publisher self-service tools like Forms Generator and Request Center.
We hope you will join all of us in congratulating Kristian on his outstanding performance and wishing him the best of luck in this new role.