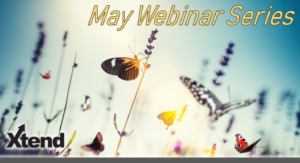 Coming Up Next Week!
Each month, Xtend offers FREE webinars focused on lending, marketing, and member service; these engaging webinars provide credit unions with helpful products, services, and industry tips to give them the leading edge.
Tuesday, May 14
2:00 PM – 2:30 PM ET
Free Pilot to Automate Changing Top Recurring Bills to Your CU Card, by Relevant Solutions
Relevant Solutions has partnered with Arcus Financial to provide an opportunity for the first 10 Credit Unions to pilot their leading card swap technology & strategies for FREE.  This pilot solution combines technology, incentives, and timely marketing.
What will you learn in this webinar?
Recurring billing to cards will go from $290 to $418 billion by 2021
How the right combination of incentive strategies, timely marketing, and technology ensures your card is the card on file!
Example Pilot data from 2 of the top card issuers
Details of the pilot opportunity